So just when you think that I couldn't possibly write another post about sleep training, why yes, there's another one of those babies coming right up. I know you're probably like "Seriously woman, how difficult can sleep training be? Just make them sleep in their own room and be done with it already. My kids have been sleep-trained since they were 4-weeks old."
Except that I've never been very successful at making the kids do anything at all. Unless those things are like watching TV and eating ice-cream, I have like a 37% success rate at making them do what I say.
But then out of the blue, it just happened. For the past 3 nights, they went to bed in their room at 9 and the next time I saw them was at 7 in the morning. I couldn't be sure if it was a case of them being too exhausted to even stir the whole night or that they were able to fall back asleep even after waking up in the middle of the night. I suspected it was the first one, but at least there was HOPE.
Fast forward to last night. My room door creaked open at 3.40 am, and I could sense the presence of a little person standing at the doorway. My head was all "OH NO. NO, NO, NO, NO, NO. Not tonight, you don't."
You see, when the sleep training began, I knew it was going to be rough so I stored up on my sleep by going to bed the same time they did. That way, I'd still be able to clock a good 6 hours before they crashed my slumber party at 3-ish. But after 3 nights of non-disturbed sleep in a row, I decided to spend that extra sleeping time watching Cougar Town last night. Which I did till almost 2 in the morning.
So when Kirsten shuffled her way in last night, I felt totally cheated.
"I just want to hug you one time," she said. "I cannot sleep in mommy's room right? I sleep in my own room kor kor will protect me." With that, she turned and went back to her room.
I waited for another 10 minutes and the silence that ensued was the sweet, sweet sound of a GLORIOUS VICTORY.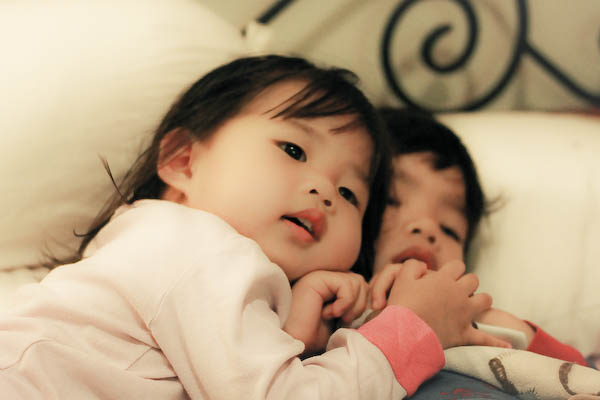 This morning, I told her I was so proud of her for being brave and we did a victory dance together while I made plans to continue my Cougar Town marathon tonight.