We're heading off to Resorts World Sentosa for a 2-day getaway sort of thing so this will be quick.
This is Kirsten and Mickey. They look like they're best friends but the poor dog is like Nemo and my little girl is like Darla, the Little Terror from Finding Nemo.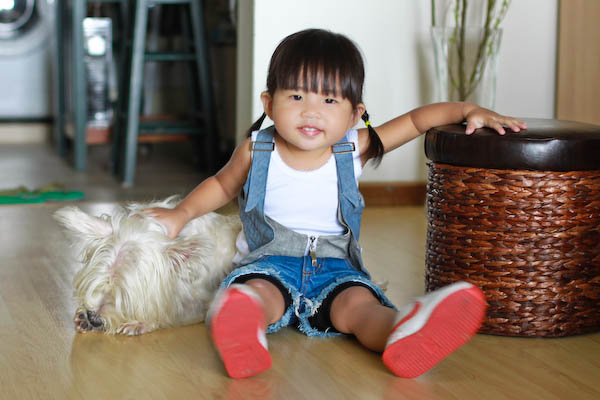 Everyday, she chases him around the house shouting "Mickey I just want to hug you" and most of the time, he's quick enough to escape her clutches but once in a while, he gets caught by a sneak attack and cornered. She grabs him and pins him down and hugs him and kisses him all over while he struggles to escape. It's only fortunate that my mom's poor dog is hardy enough to withstand being man(girl)-handled by her.
And when he does manage to squirm out of her grasp, she's all "MICKEY COME HERE NOW! YOU NEVER LISTEN TO ME YOU NAUGHTY BOY!"
Which is the point he runs to Tru and looks at him with those doggy eyes that say "HELP SAVE ME FROM THIS MONSTROSITY."
Truett is the resident dog whisperer around here, in that he speaks to Mickey so gently it's like whispering. Whenever we scold Mickey for doing something bad like rummaging the trash, he'll run to his rescue and say "Mickey is a good boy, don't scold him." So it's no surprise that Mickey loves him to bits and follows him around willingly.
Kirsten says it's because they're both boys and I should get her a 'girl dog' but I didn't want to break her little heart by telling her that it's really because she's a terror to animals and if I were a 'girl dog', I'd also be running away from her as fast as I could.