If you haven't read part 1 of this, you should probably start here and hop right back after, it'll make more sense that way. There's tons of stuff to cover in this second part, so buckle up those seat belts and let's get going.
We'll start part 2 with some of the basics, like when is it a good time to visit Disney World?
Trick question. The answer is anytime. There's no bad time to be in Disney and no matter when you go, you will have the most magical time.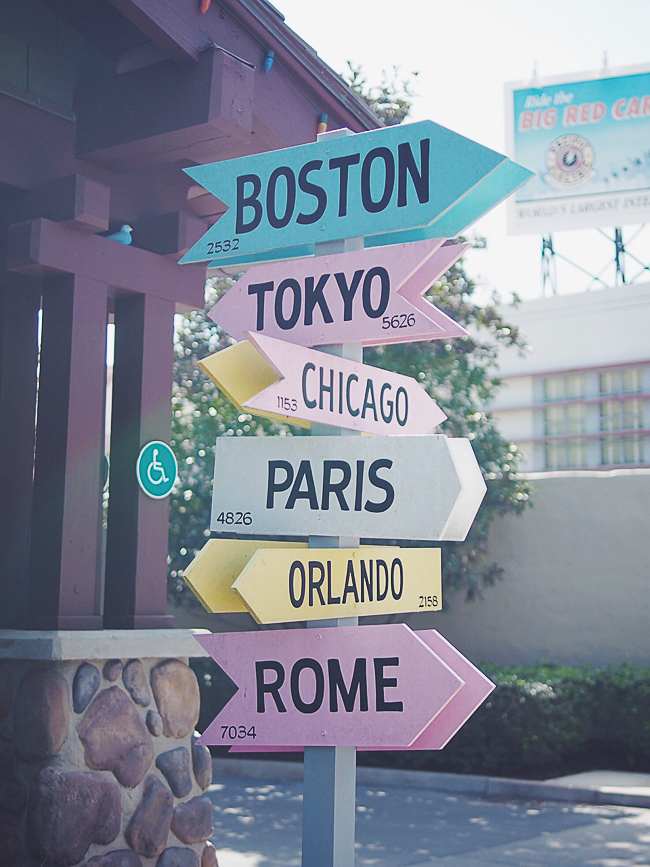 Ok, let me rephrase the question to "When is the BEST time to visit Disney World?"
Ah, glad you asked. In my highly subjective opinion, the best time to visit is in the last week of October right through to early November. The crowds are relatively manageable at this time, you'll see the parks dressed up for both halloween and christmas, plus you get to experience 3 special events: Mickey's Not-So-Scary Halloween Party, Mickey's Very Merry Christmas Party, and Epcot's Food and Wine Festival.
That's too many birds with one stone.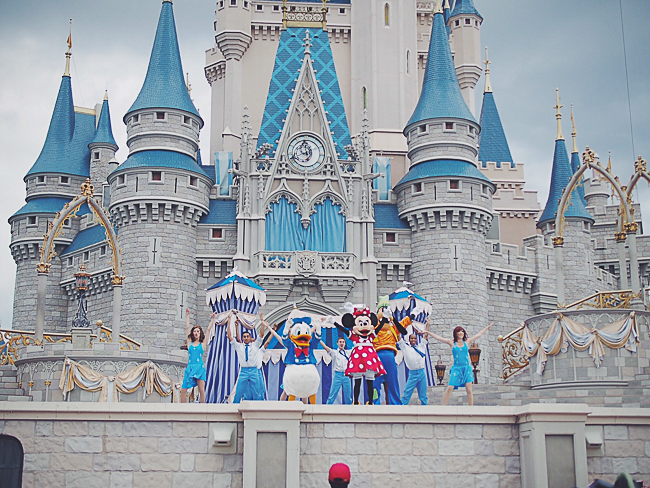 Nobody does parties like Mickey and I most definitely recommend attending the halloween and christmas parties if you can. It's not hyperbole when I say that these were the 2 best parties I've ever attended in my life. We also really enjoyed the Food and Wine Festival at Epcot. There's FOOD! And WINE! You get all these pop up stalls around Epcot's World Showcase selling amazing snacks like lobster tail, mini sliders, cheese plates, seared rainbow trout with bacon – it's like having a delicious food tour while you're touring the park.
My next favourite time to visit in in late Jan/early Feb, when the weather is lovely and crowds are at its lowest all year. The downside is that there are usually a couple of rides that are closed for refurbishment (which could happen at other times as well), but plenty of the other rides are basically a walk on, so less time is spent queuing for rides.
If you have Primary-schoolers and you can only travel during the school holidays, I'd recommend going as soon as the holidays start in late November. Or in June. Or other time you'd like.
Because uh huh, say it with me, anytime is a good time to be in Disney.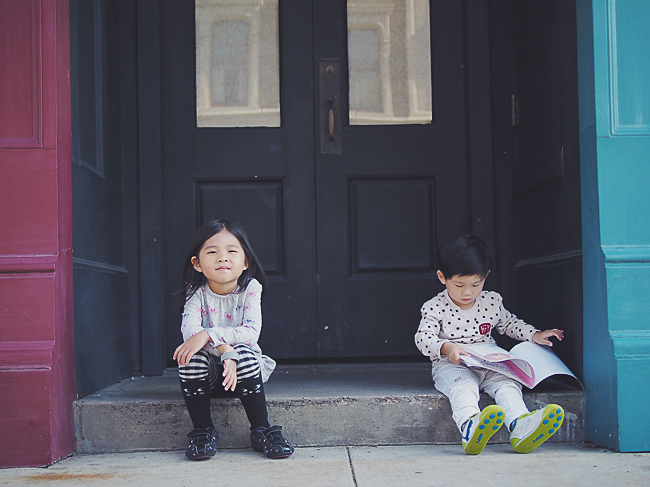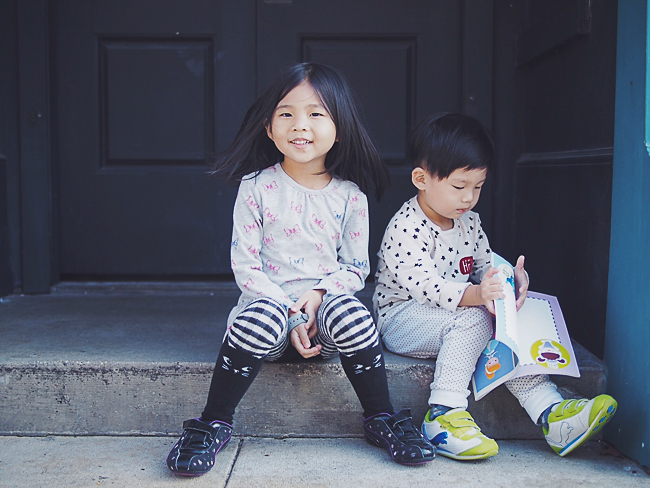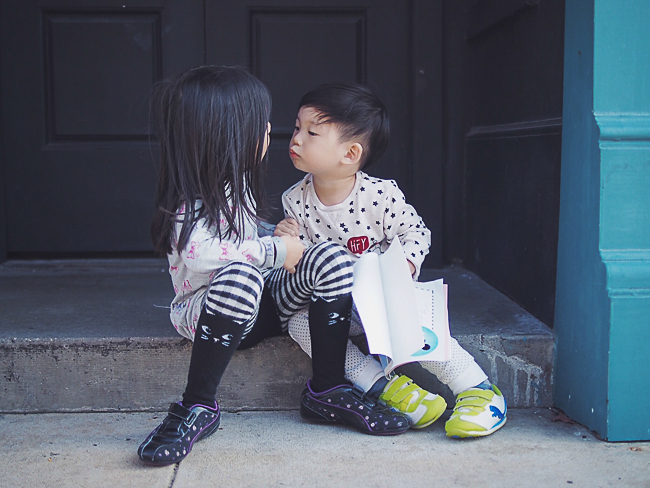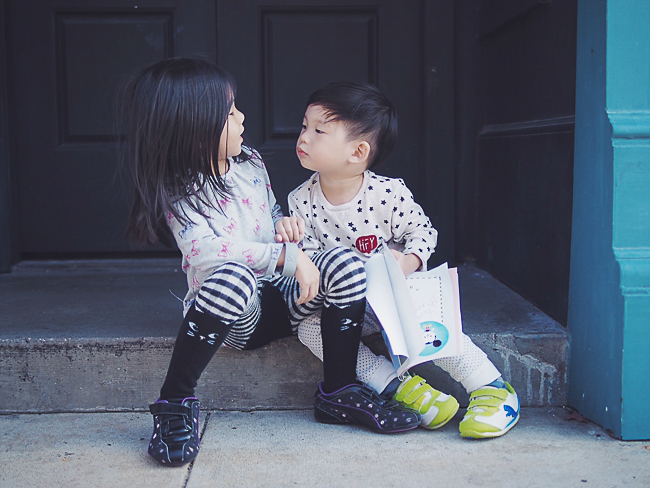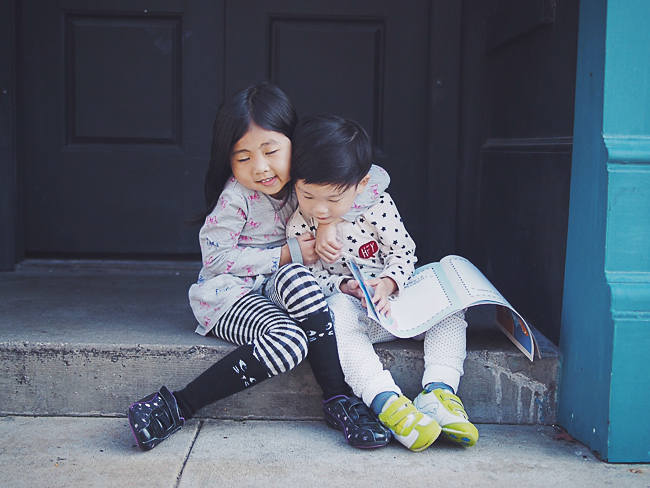 Picking up where we left off in part 1…
#6. Touring the Parks
The first rule of Disney park touring is to hit the parks early at rope drop. With kids, this takes a tremendous amount of dedication and discipline, but trust me, it's worth it. You'll be able to do much more in that 1-2 hours once the park opens than in the next 4 hours after that. If you're staying at a nearby resort, you can head back to the hotel for a break/swim/siesta in the afternoon once the crowds get really insane.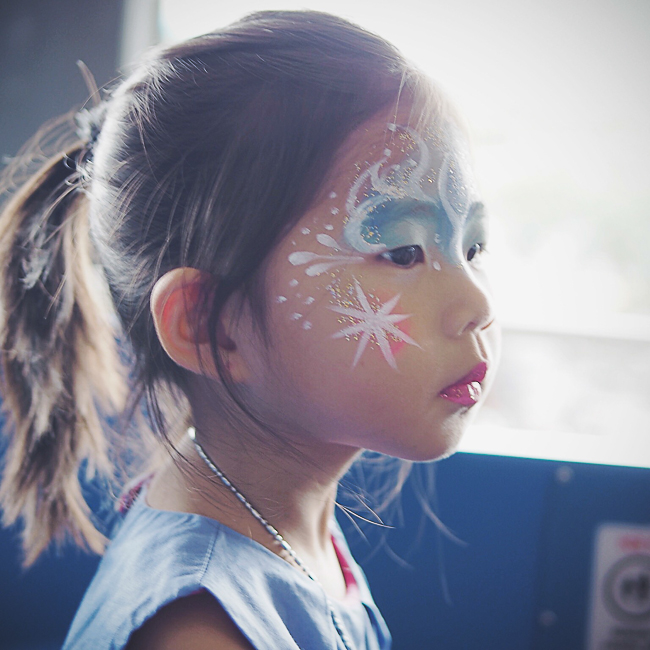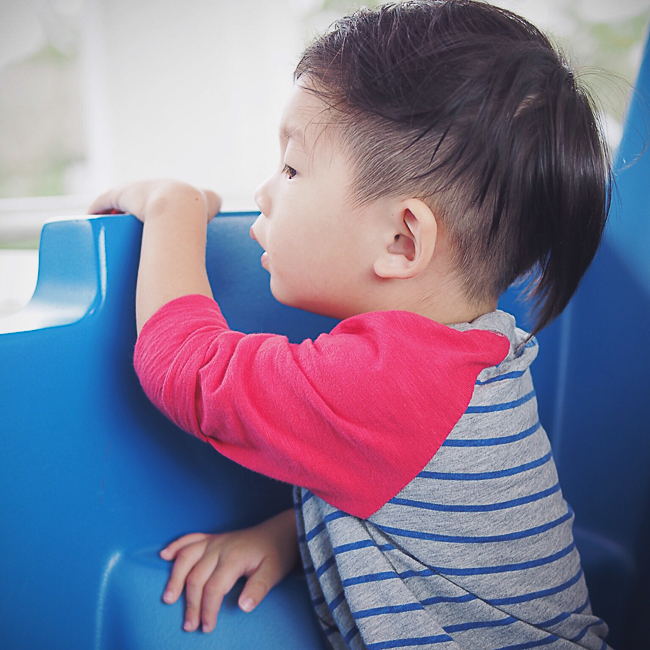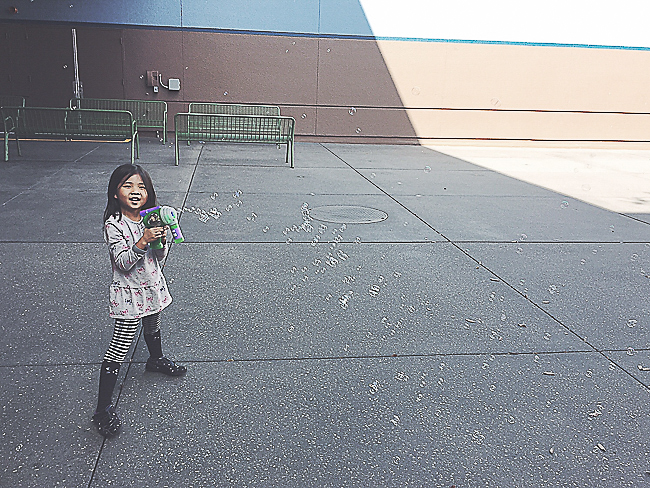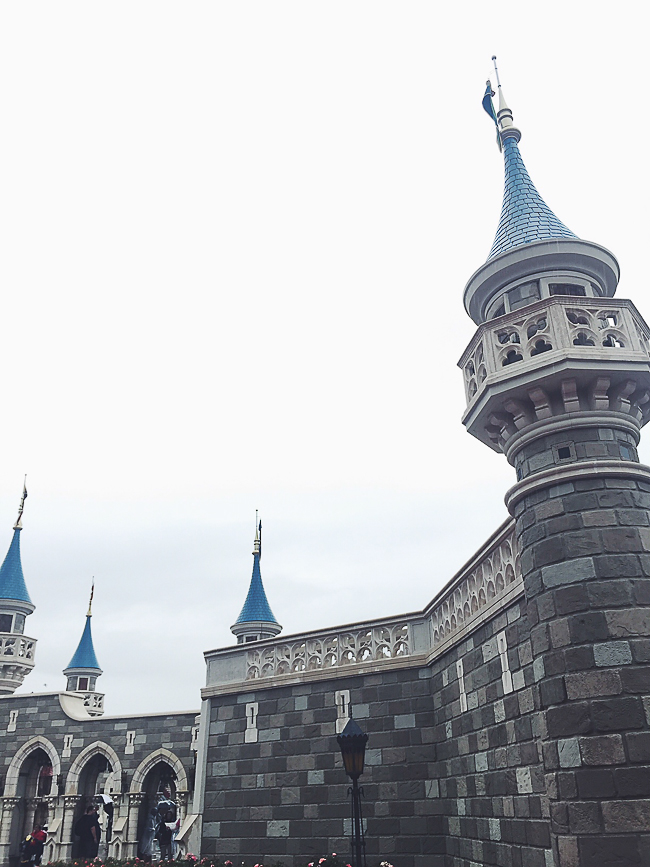 #7. Making sense of Fastpass+
The Fastpass+ system is genius. Everyone in the park gets to pick 3 fastpasses per day (it's free) and it will tell you when to show up for your chosen attraction. When you arrive, you just need to scan your magic bands and you'll be whisked off to a special express queue where the line is short and the experience is beautiful.
Picking the attractions is the fun part. You can start booking fastpass+ 60 days prior to your check in date and you should try to do so because the fastpass selections for the popular attractions get snapped up very quickly. I'm also going to tell you my top picks for each park because not all fastpasses are created equal and it's worth more at some attractions that others.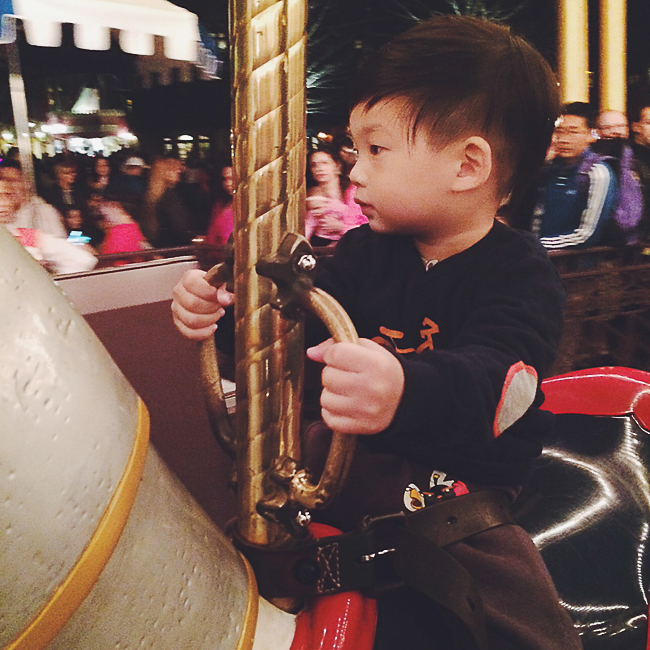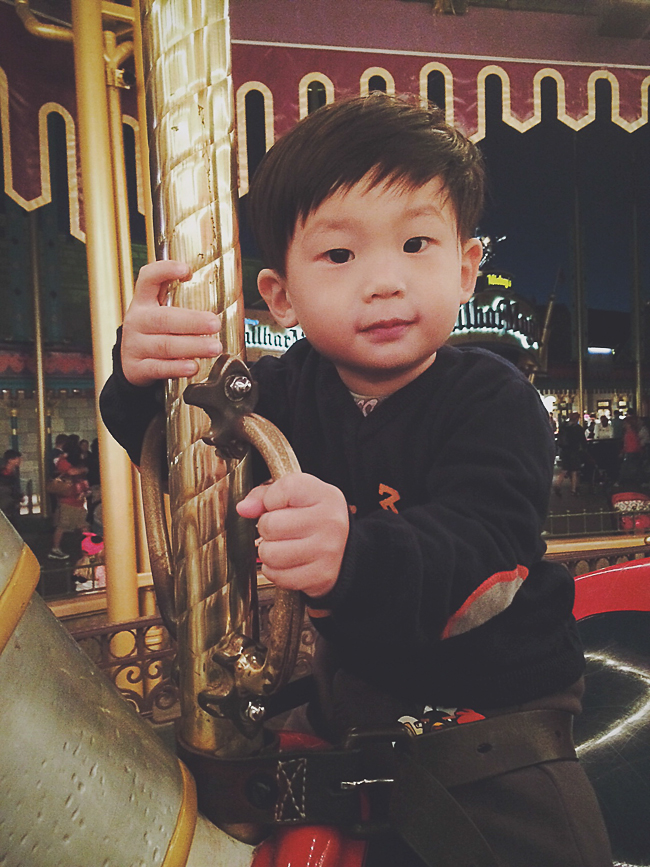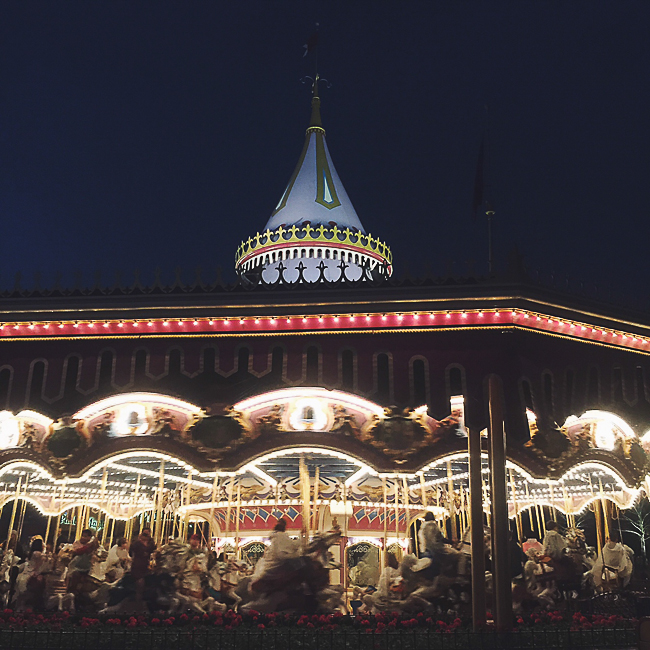 Magic Kingdom: 7 Dwarfs Mine Train and Meet and Greet with Elsa and Anna should be at the top of your list. The third can be a toss up between Big Thunder Mountain Railroad, Space Mountain, Jungle Cruise or Tomorrowland Speedway.
Epcot: Test Track (or Soarin'), The Seas with Nemo and Friends, Turtle Talk with Crush.
Hollywood Studios: Toy Story Mania, Tower of Terror, Frozen Sing Along.
Animal Kingdom: Kilimanjaro Safaris, Expedition Everest, Festival of the Lion King.
#8. A little more on the best rides in Disney World.
Asking me to pick my favourite ride at Disney is like asking me to pick a favourite child, it just cannot be done. I can, however, narrow it down to the top 5 rides from all the parks, in no order of preference. These are all THE BEST.
//Test Track – if speed is your thing, this is it. There are no scary drops or loops or spins or any other distractions, just 100% acceleration and speed and the feeling of wind in your hair.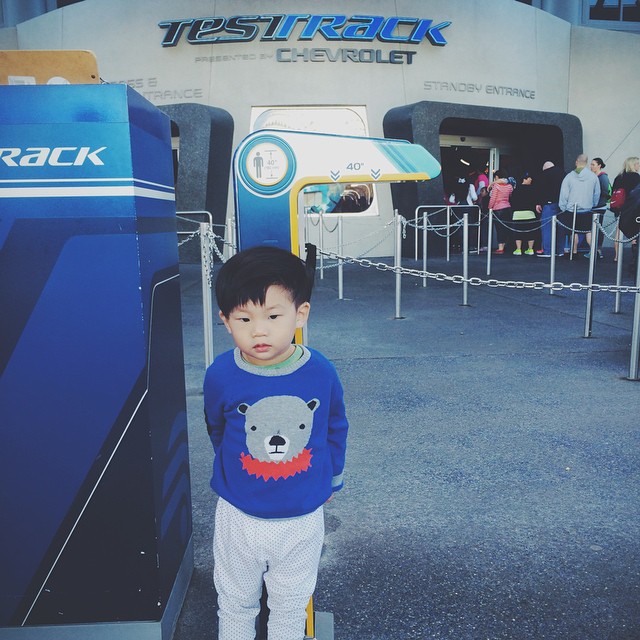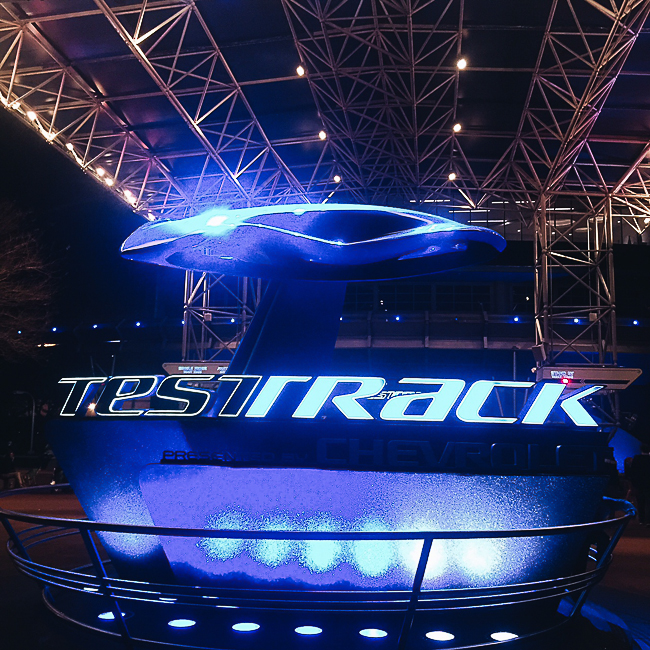 //Big Thunder Mountain Railroad (*at night) – as far as traditional coasters go, this one is done to perfection. Brilliantly themed, well paced, no drops, and the rush from start to finish is indescribable.
//Toy Story Mania – a really fun 4D shooting game that captures the magic of Pixar's Toy Story. Plus, the scoring system is so addictive. Fans of Woody and Buzz will love this.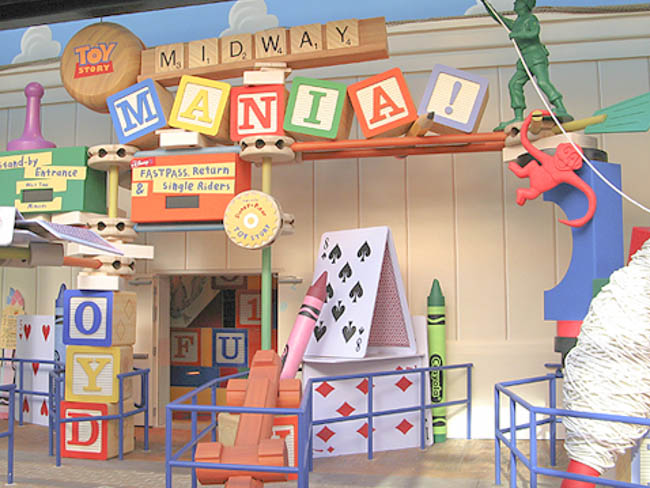 //Kilimanjaro Safaris – an actual safari ride that takes you on a ride into the african safari plains. You get to be up close with the giraffes, zebras, rhinos and lions. One time, a baby giraffe came so close to the truck that I could have stretched out my arm to pat it.
//7 Dwarfs Mine Train – this is the newest addition to Magic Kingdom and it's a phenomenal one. It's pretty similar to Big Thunder Mountain, but with jewels and the seven dwarfs and a slightly more thrilling track.
#9. And also a little on the best shows.
I think I love the shows as much as I love the rides, or maybe more. I'm going to include the fireworks as shows here, so the best shows that you absolutely have to catch are…
Wishes Nighttime Spectacular, Fantasmic, Illuminations, Beauty and the Beast, Festival of the Lion King, and Finding Nemo.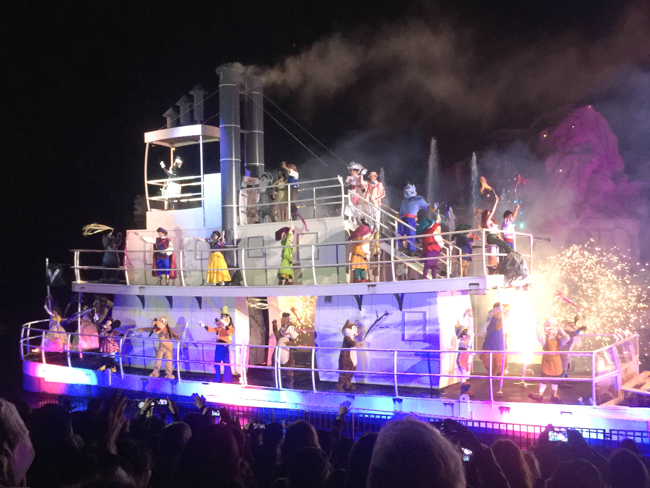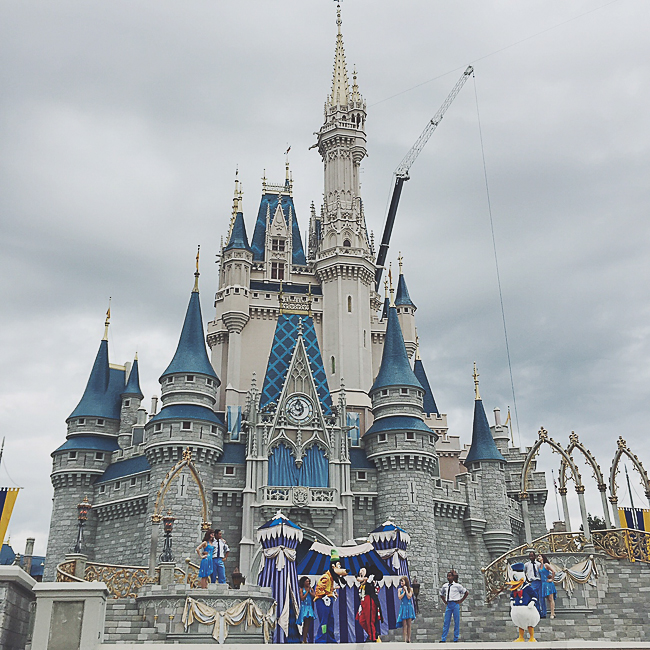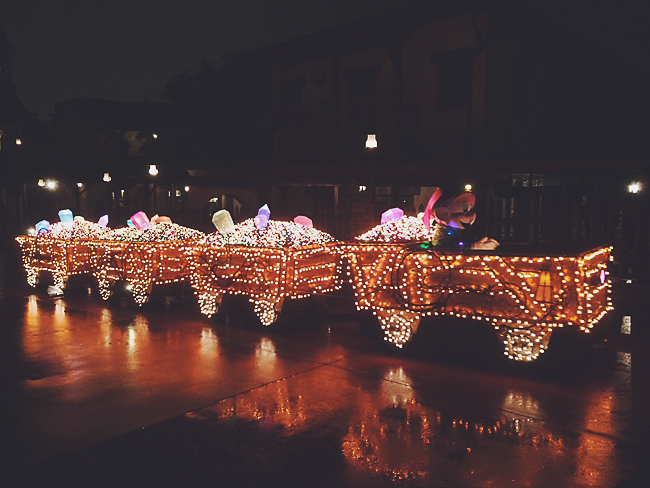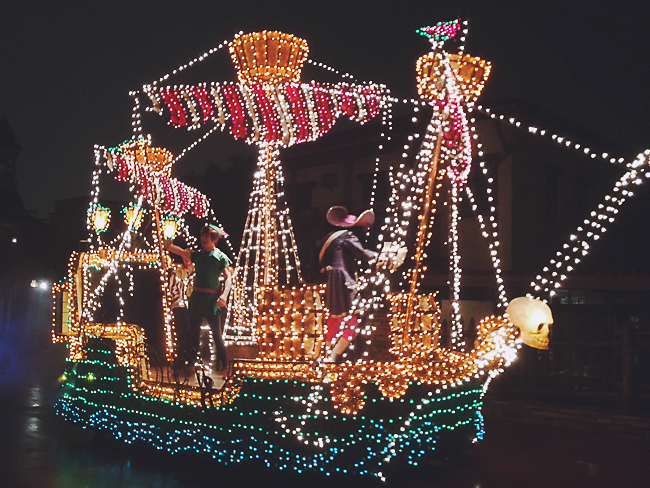 Special mention goes to For the First Time in Forever (for Frozen fans) and Disney Junior Live on Stage (for Disney Junior fans).
10. On Character Meet and Greets. 
I have not met a Disney character that I've not loved, and this includes Lady Tremaine, who did her best to turn up her nose at everything I said. Also Cruella De Vil, who tried to mock me mercilessly.
Meeting the characters are a great experience in itself, but instead of just standing next to them for a photo, here are some ways to make it more fun and interactive.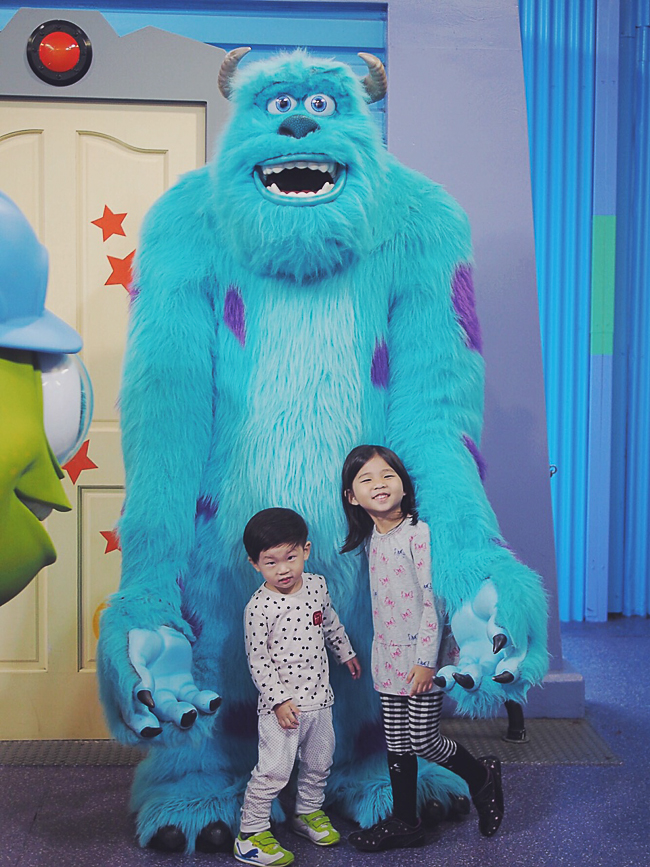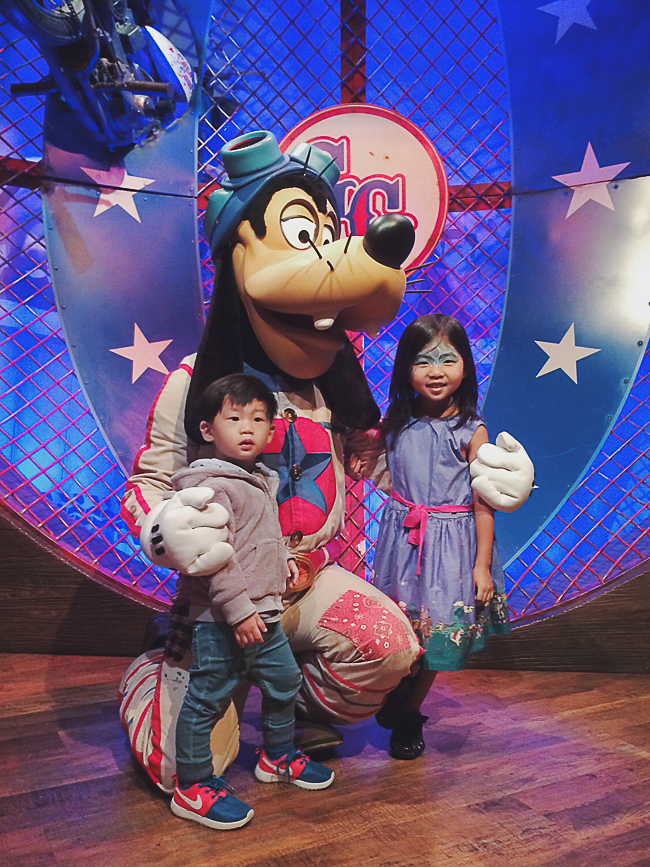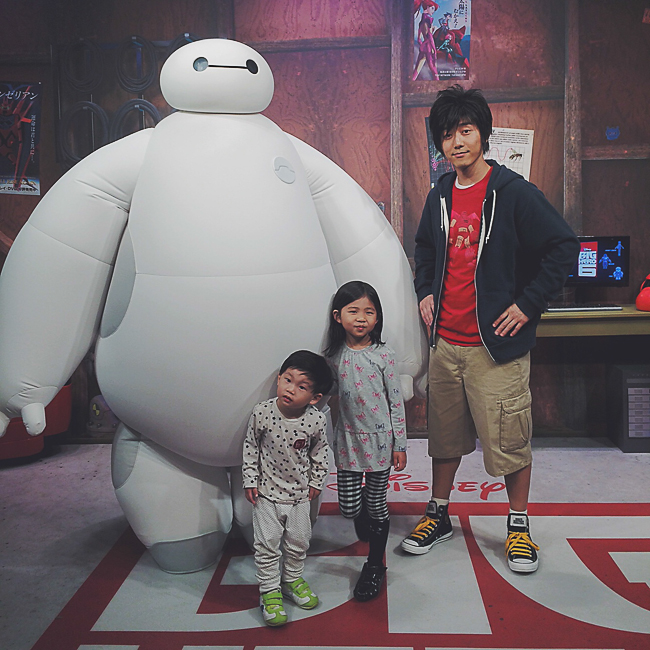 //Get an autograph book and a sharpie. I custom made my own autograph book with photos and quotes (by each character) for the kids and it was a huge hit with the characters. Elsa took her time browsing each page and telling Kirsten about her own favourite characters, it was such a treat.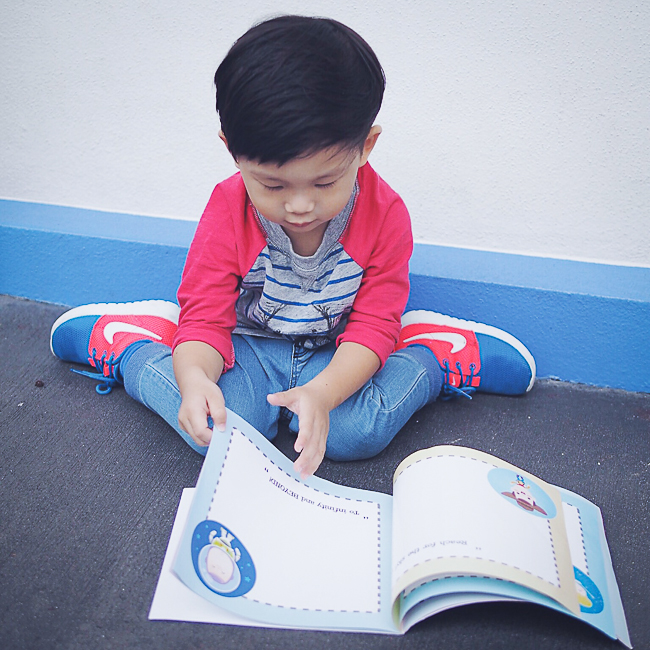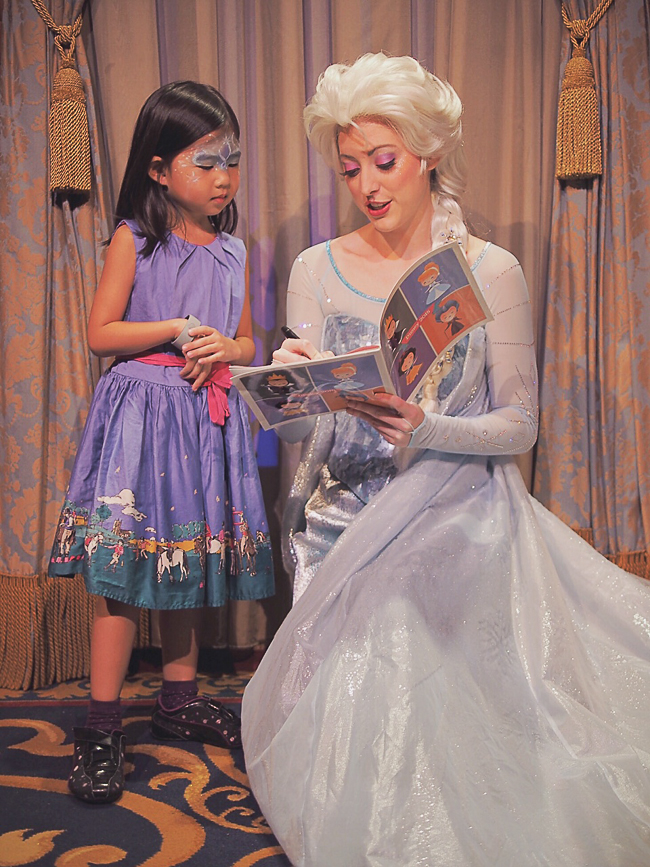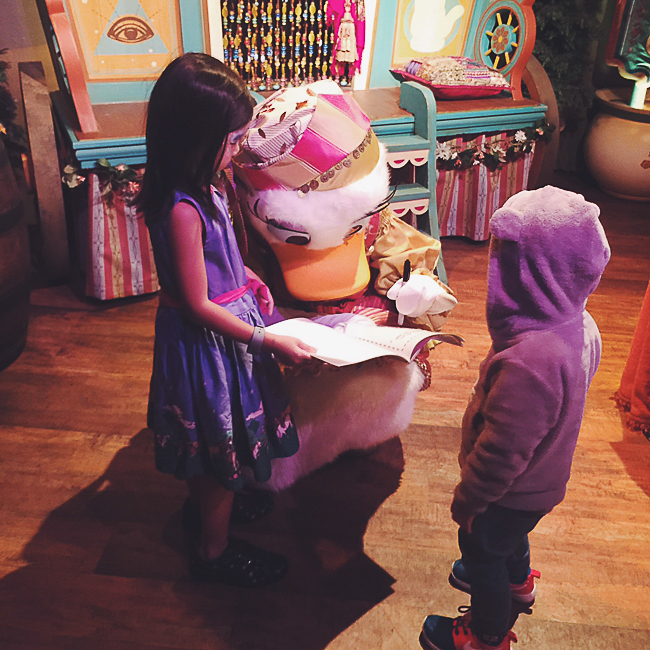 //Make conversation and play along. They never break character, which makes it so fun to interact with them. Like Chip and Dale are really playful – one time Chip pointed to his cheek for a kiss, and when I gave him a peck, he pretended to blush while Dale went over to the husband to comfort him. Or another time, Anastasia and Drizella were fighting over Truett to see who got to marry him, and then he panicked and bolted away from them as fast as he could.
Above all, the one most important advice that we try to remember on all our trips is that the memories are what's most important, so it's not a big deal if you end up missing some rides or if the kids decide that they do not, in fact, want to meet Mickey after 45 minutes of queueing.
Oh yes, this actually happened to a father 2 spots in front of me. It was literally his turn when his daughter started tearing and said, "I don't want to meet Mickey anymore." He asked her again, "Are you sure? It's your turn and he's standing right there" and when she nodded tearily, he picked her up and said, "Alright, let's go get an ice-cream instead." He just calmly left the queue after being there for 45 minutes. For me, that was a profound moment of zen-ness, which has become my guiding principle for traveling and parenting as a whole.
We'll go there with a (very detailed!) plan, but once we're there, we'll adjust and wing it and try our best to make some magical memories to bring home.