Just found out yesterday that I made it into the top 10 finalists for SG Blog Award's Most Insightful blog category.
Kelvin: Congrats, you made it into the top 10 for Most Insightful.
Me: For real? Most insightful? There's hardly any insight in the blog. I think at some point they'll realize they've made a terrible mistake.
Kelvin: Don't feel bad. How *not* to be a parent counts as insight too.
Me: Thanks hon, you always make me feel so much better.
And then it degenerated into banality about how Truett was spitting out his food again, which you probably don't want to hear about.
In any case, be prepared for some major insight in the next few weeks just so that I don't get disqualified from the category completely. Because I did my homework and checked out the rest of the blogs there and I realized that they actually do give insight on stuff like dating and health and technology and here I am flooding you with photos of my kids. So I'll be loading up on some serious insight here from now on.
What the heck, I might as well start now. Did you know that an ostrich's eye is bigger than its brain? Because it is. There, you're welcome.
I'm not very good at this insight stuff, I'm still working on it.
Anyway, in exchange, you'll have to promise to vote for me. Ok, stop it, I can see your eyes rolling back into your head. I'm not done yet. You'll have to promise to vote for me everyday. I told the husband to promise and he was all like "WHAT?! it's so troublesome. I don't even read your blog everyday." Which is the point I banned him from surfing his Arsenal blogs until he voted me for. I also hinted at the possibility of some serious boom-chica-wow-wow action but he knows he'll be getting some regardless. The guy has got some serious moves. Ok, too much information, I'll stop now.
But seriously, if you like the blog enough, you can head over to OMY to vote and I'll be eternally grateful. If not, I'll probably end up as the only blog without any votes, which will be reminiscent of that time in Primary School where I had this sing-off competition with another girl during Music Class and after I was done, nobody voted for me because my friend said it sounded "really awful and she was saving me from further embarrassment". Worst thing was, I didn't even want to sing in the first place but after that, I hid in a hole for a few days and I've never sung in public again, not even in Karaokes. True story.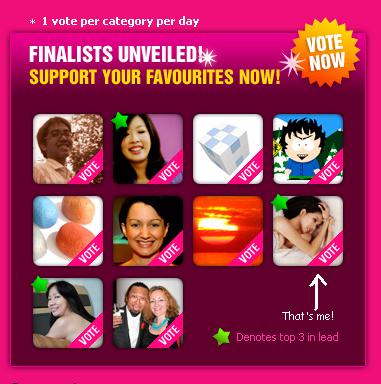 Oh, while you're at the voting, there are some other superb blogs  in some of the other categories which I'm sure you'll like and you can vote for them too.
1. Best Individual Blog – ED Unloaded
2. Best Lifestyle Blog – Miss Glitzy (my schoolmate!) &  Story of Bing
3, Best Photography Blog – Hendra & Leonny
4. Best Food Blog – Camemberu