I've always wanted to be artistic. To make beautiful things with a lump of clay. Or paint a masterpiece on a blank canvas. Or design pretty art pieces with fabric and scrap paper. Or at least be able to draw basic shapes and not suck at Pictionary.
I mean, just for once in my life, I'd like to really nail a round of Pictionary and not have to explain why my lion looks like a deformed monkey.
Unfortunately, it seems like the artistic part of my brain has been damaged from childhood, probably from that time I was dropped on my head as a baby. But no matter because Pictionary is stupid and who needs to draw when I can google pictures and print them out on my laser printer. In color.
In any case, I've been careful not to drop the kids on their heads (too often) so there's still a good chance that their artistic genes aren't damaged. And I'm determined to cultivate their artistic talents until proven that they don't have any.
Which is why I went out and bought them their very first paint set, complete with brushes, paints and palettes. Speaking of palettes, I was at the art shop asking the owner for the painting plate thing and he looked at me like I was a total noob before saying "you mean palette?" Yes, ok, palette, whatever. When I was a kid, I had to put my paints on a paper plate, aight? I get to call it a plate.
Anyway, here's their first painting attempt.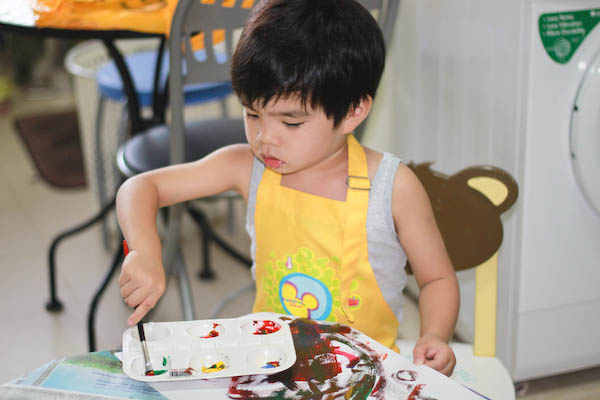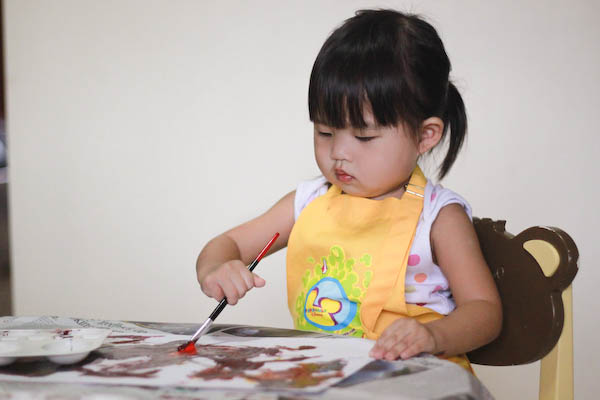 The great thing is that they really enjoyed it so I guess more painting sessions are in order.
The not so great thing is that their artistic gene seems to be more damaged than mine. Like at least I know how to isolate my colors so I get blobs of distinct colors.
They made me put up their paintings on the wall "to show daddy" but the moment they go to bed, I'm going to chuck it.