As a parent in Singapore, the 3 letters I like most are C, D and A. Well, at this point, I also like S, L, E, E, P very much, but I think if I really had to choose, I'd go with CDA for sure.
What's this CDA I speak of? I'm glad you asked.
If you are a parent who hasn't heard about the CDA account, it's time to pay attention, you're going to want to sign up for it like right now. Because did anyone say free money? Yes, that's exactly what the CDA gives you.
The CDA, or Child Development Account, is a special awesomesauce savings account for your child. It's awesomeness lies in the co-matching savings that will be matched dollar-for-dollar by the Government up to the cap of $6,000 each for the first and second child, $12,000 each for the third and fourth child and $18,000 each for the fifth and subsequent child.
So with my 4 kids, I'm eligible for up to $30G's in Government contribution – that's a pretty sweet deal. (It's $30,000 instead of $36,000 because Truett wasn't eligible for the CDA account when he was born).
With all this money in the CDA account, what can it be used for?
The short answer is pretty much all their medical and educational expenses, which can add up to be pretty astronomical.
For a more detailed answer, the savings in the CDA may be used to pay approved expenses for all your children at Approved Institutions registered with the Ministry of Social and Family Development (MSF) under the Baby Bonus Scheme. These include child care centres licensed by MSF, kindergartens and special education schools registered with the Ministry of Education (MOE), and healthcare institutions licensed under the Private Hospitals and Medical Clinics (PHMC) Act. It can even be used to purchase MediShield or Medisave-approved private integrated plans for all your children.
Trust me, you NEED this.
For our family, it's been a massive financial boost to help with the costs of raising kids in Singapore. We use it to pay for the their school fees and medical bills like vaccinations and doctor's visits. Sometimes, looking at the cost of sending 4 kids to preschool makes me panic a little (or A LOT!) but with the co-matching savings from the CDA account, we're effectively paying for only half the costs, which is like just sending 2 kids to preschool. Okay, still panic territory but much more manageable.
We were previously with OCBC's CDA account but I recently heard some fab news: POSB has just been appointed as a Baby Bonus Bank and is launching an attractive offer of a 6-month Early Bird Bonus Interest of 1% p.a. on top of the POSB CDA Interest Rate.
I immediately registered for a switch over to POSB's CDA account for all my kids because extra money on top of my free money? Why, yes please! That's a no brainer. Besides, there's also the convenience of banking with POSB. I used to have to hike to the nearest OCBC ATM machine 15 minutes away if I needed to make any transactions but with POSB, it'll be so much easier to check balances and make deposits from my personal POSB savings account online.
If you're an existing CDA Holder with other banks, switching to POSB can be easily done by registering here.
*Finally, from now till 31 October, you can also stand to win S$5,000, credited into your child's CDA account simply by submitting a cute photo of your child with an interesting caption and #POSBBabyBonus on POSB's Facebook page.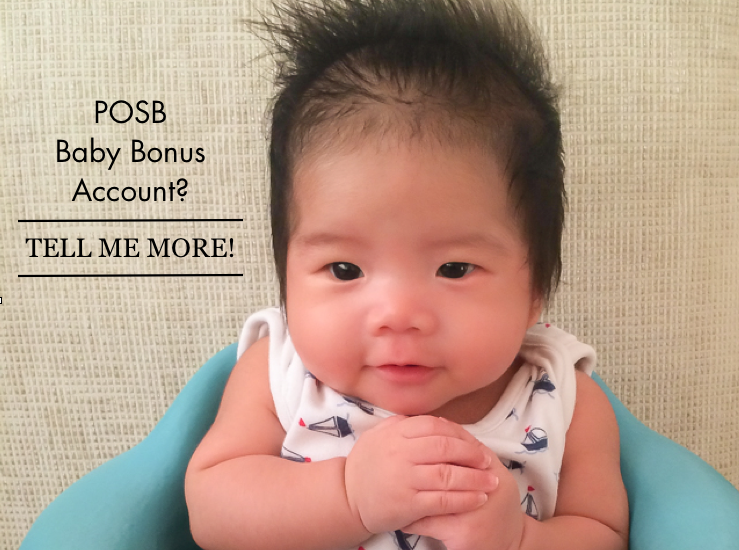 Register now at www.posb.com.sg/cda and submit your photos to www.facebook.com/posb.