Believe it or not, I've never been to the Night Safari in all my 28 years. I know, that's like living in Anaheim and never being in Disneyland. Or living in Beijing and never visiting the Great Wall. In other words, I'm what you call a total local snob who's too cool and savvy to fall for a touristy gimmick.
The idea of a night zoo is novel but come on, who pays $32 to not see a bunch of animals sleeping in pitch darkness? The poor giraffes and zebras just spent the entire day entertaining overexcited kids in the day zoo and after the sun sets, they've still got to pull another shift without taking a break. If it were me, I'd be hiding under a rock somewhere nursing a very foul mood.
But you know where this is going though right? Me telling you about my trip to the Night Safari and how incredible it was. Except you'd only be half right because while some parts were really cool, other parts were entirely predictable and also kind of boring.
So here we go then.
1. Dinner at Bongo Burgers – One word, MEH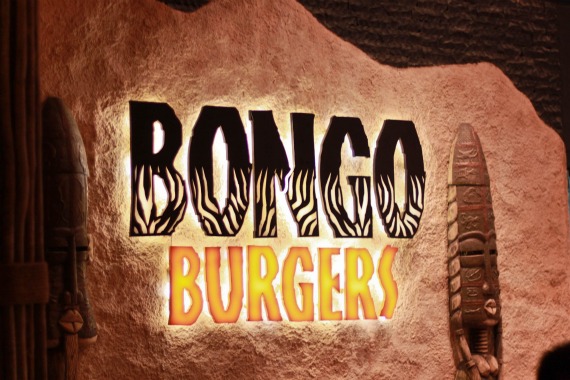 I heard some good things about Bongo Burgers so it was the dinner place of choice when we reached. I expected the tourist prices but I was also expecting better food, I guess. The spring chicken had deliciously crispy skin but the wedges, nuggets and burgers were meh.
2. Thumbuakar tribal performances – Smokin' hot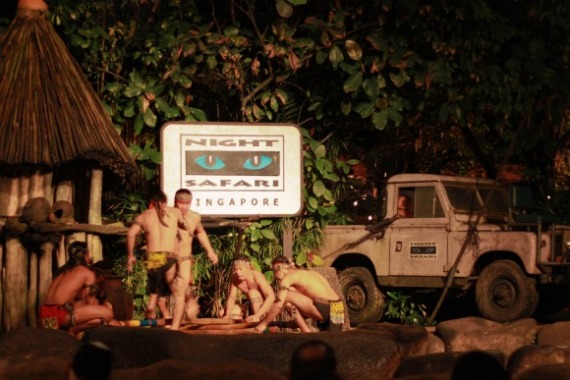 Tribal artistic expressions are not really my thing. I'm glad they have a rich cultural heritage but that's just not reason enough for me to want to pretend to like it. At first, they were doing their interpretive dance routine in their loincloths and I snuck a peek to see if they had decent abs before going back to feeding baby girl tasteless wedges.
The only exception is when it involves people eating fire and making big fireballs with their mouths like this one did, then I'm a huge fan of tribal performances. I think they also realized the tribal dancing wasn't really reeling in the crowd so they were all like "let's not waste time doing this and bring on the big fire."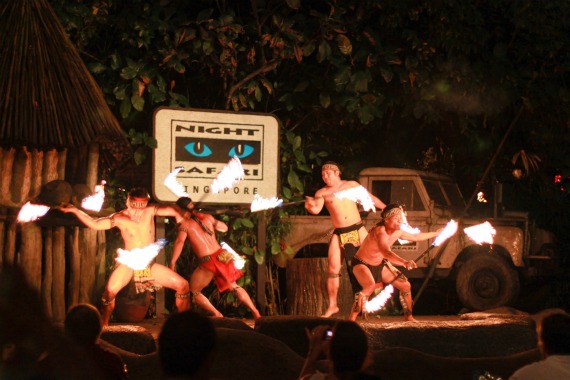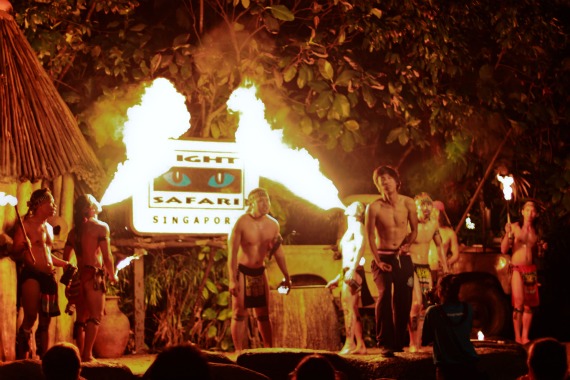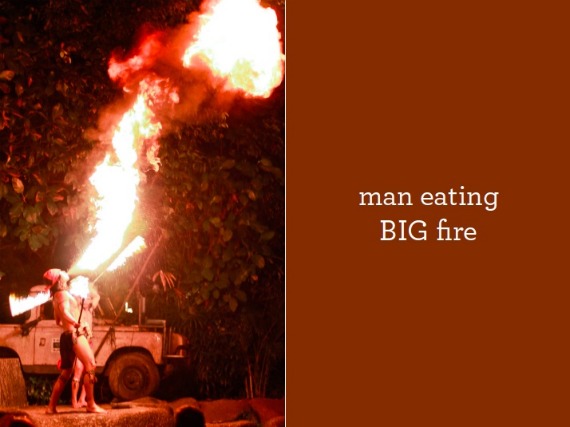 What can I say, me like big fire.
3. Creatures of the Night show – Painfully predictable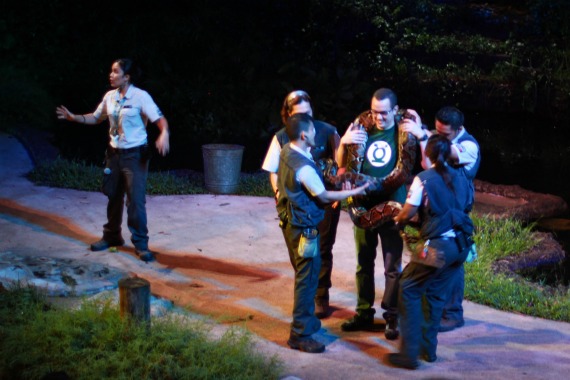 It was like any other animal show, just with nocturnal animals instead of regular daytime ones. I can't say which category snakes fall into but I'm pretty sure they have enough evil powers to not need any sleep. Oh wait, apparently they do sleep but with their eyes open, which is exactly like my scary Chemistry teacher who used to make us do workbooks while she sat at her desk and stoned with her eyes open. We could never tell if she was asleep or in an evil trance to store up powers.
4. Tram ride – Mostly awesome
We had the option of walking or taking a tram around; we chose the tram because I didn't feel very safe walking around with free-roaming wild animals in darkness. There was a no flash-photography rule in case the animals got blinded or startled into attacking us, which made it incredibly difficult to take pictures.
I shot with my 50mm on manual, had the aperture wide open at f1.4, shutter speed 1/40, ISO 800-1600, boosted the light for some and tried to keep a very still camera hand to reduce motion blur. 80% of the shots were very Blair Witch Project but I got a handful of pretty good ones.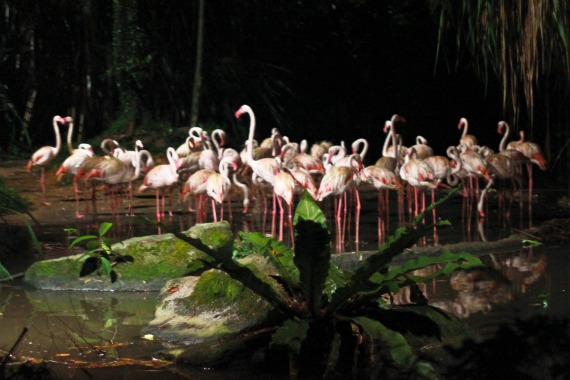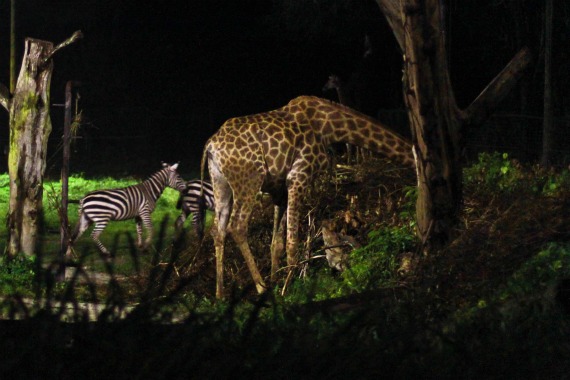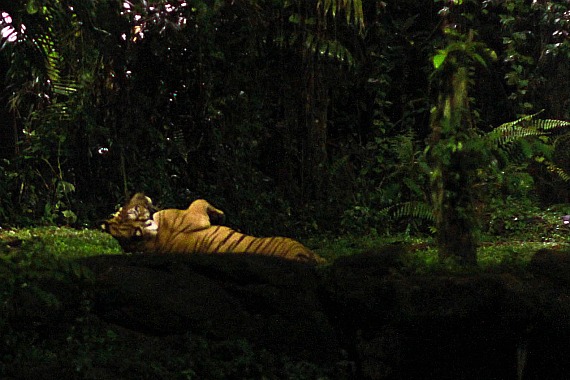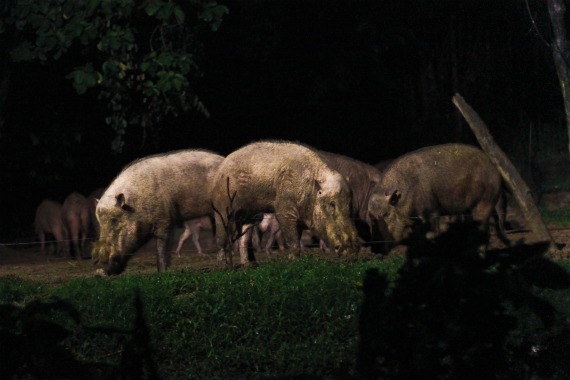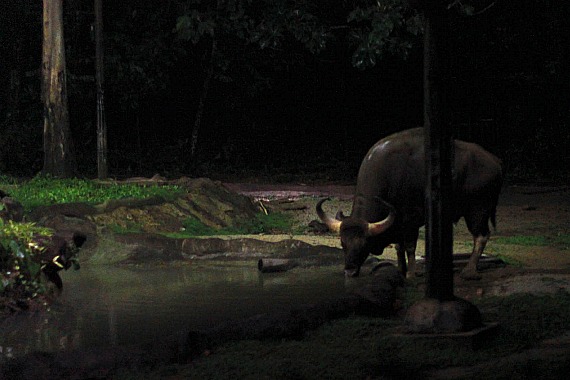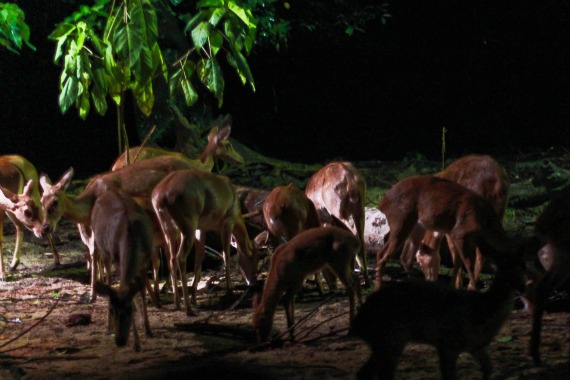 5. Gift store – Headgear for if you ever meet a tiger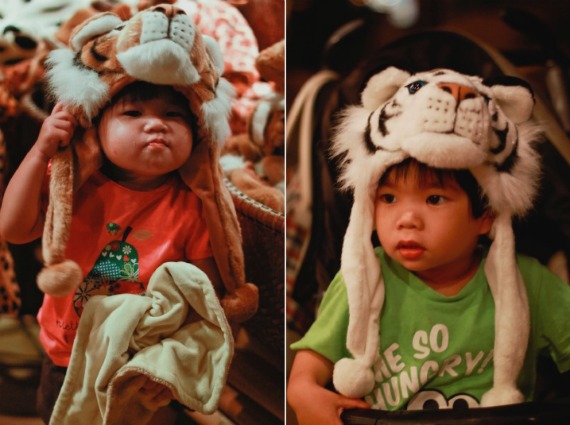 We were already doing the tourist thing, so might as well go all in. We were the only ones hamming it up with the gaudy tiger hats at the gift store, so much so that even the tourists were staring at us funny. Then again, that's probably because I looked partially retarded with my headgear on (FYI, no way I'm posting that picture up).