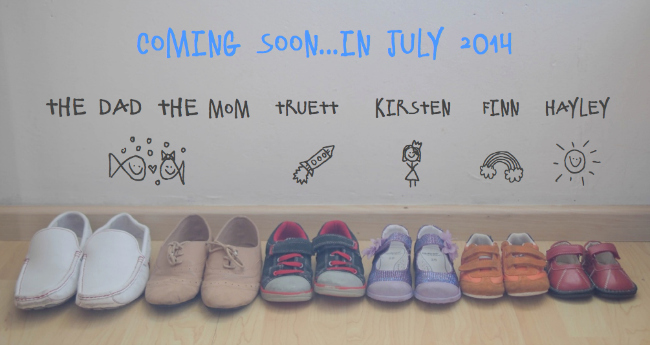 You knew this was going to happen, didn't you?
It's happening. #4 is happening. We're having a new addition to the family – arriving soon, in the summer of 2014.
So, details.
Just this one time (and we know exactly when it happened), we thought ok, since we were sort of open to the idea of having another baby but come on, obviously such things take time and according to my calculations, the odds weren't high at that point and what the heck, let's just take our chances and live dangerously and all that and next thing I knew, I got all vomitty and *DING DING DING*, CONGRATULATIONS, HERE'S A BABY.
Like I said, anyhowly touch also…
Well, It's early in the pregnancy. I'm about 7 weeks in and I thought I'd keep it under wraps for another month or so but I'm at a point where I have to talk about the pregnancy symptoms (which are killing me, btw). Besides, by now, nobody's really surprised anymore. They can all see it coming a mile away and everyone I've told is like "don't say it, let me guess, you're totally pregnant" and like the husband says, I practically live my life on the internet so it's not like a national secret or anything. Also, I am very excite! As excited as one can be during a fourth pregnancy, I guess.
We're glad, of course. I'm hoping it's a girl because I NEED ANOTHER GIRL BABY. I'm not equipped to deal with 3 boys worth of testosterone slash madness. But then I really wanted Finn to be a girl and look how well that turned out. Ok, kidding. He's turned out to be perfect in every way, my little heartbreaker.
But I have a feeling this one's probably a girl. And we're going to call her Hayley.
In any case, this is the last pregnancy I'll ever have because after I give birth, let me state for the record that this factory is officially closed. That's it, four and done.
But for now, it's just the beginning. 8 more months, let's go.